The space tourist crew who spent three days orbiting Earth in a SpaceX Dragon capsule has returned to our planet in one piece.
The gang, dubbed Inspiration4, splashed down in the Atlantic Ocean off the Florida coast just after 1900 EST (2300 UTC) on Saturday. They were checked over by doctors and flown by helicopter to land.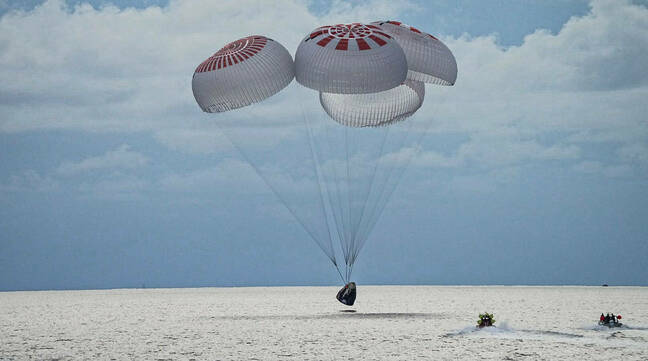 Splashdown … The Inspiration4 capsule makes it back to Earth. Source: Inspiration4
If you want to relive their descent, there was a livestream here.
On Wednesday, the crew blasted off from Kennedy Space Center's Launch Complex 39A atop a SpaceX Falcon 9. They reached an altitude of 363 miles (585 kilometres), further out than the International Space Station.
The team – Jared Isaacman, Dr Sian Proctor, Hayley Arceneaux, and Christopher Sembroski – effectively completed the first all-civilian human spaceflight to orbit. None of them were traditional professional astronauts, and the capsule was largely automated, leaving them to observe our home world from a bubble-shaped window. SpaceX hopes to launch as many as six private flights a year as well as…